Our women's ministry exists to support and encourage women's spiritual growth, to help women get to know one another, to provide opportunities for women in the community to know Christ, and to spread the gospel.
---
We have several strong study groups, as well as regular luncheons to nurture this community among our women.
While most relationships grow through participation in a variety of events and ministry opportunities at University Bible Church, our women's programs provide additional opportunities for women to connect with one another and become strong women of faith. Below are various ways you can join us.
Events
Throughout the year, every other month, we host a women's luncheon on a Sunday afternoon directly after the morning church service. We enjoy a delicious lunch and hear from a UBC woman who shares about her personal journey with Jesus. God has continually blessed these gatherings and it is always a special time. Be sure to consult the UBC calendar to save the date and attend these events throughout the year.
Women's Bible Study
There are various small group women's bible studies held throughout the year. These groups provide a place to study the Bible in-depth personally and in community with others. You will have the opportunity to wrestle with the tough questions of life, go deeper in your relationship with Jesus Christ and connect with other women in meaningful conversations about things that matter. For more specific information about these studies please contact the church at info@UniversityBibleChurch.com. You can also refer to the UBC Calendar for specific meeting dates and times.
Women's Luncheons

January 21: Our special speaker is Susan Silver who will share her journey as a Jewish believer.

March 18 • TBD

May 20 • TBD

We meet downstairs in the Patio Room right after the morning service. Join us and enjoy a delicious lunch and fellowship along with a special program. Child care and lunch for the children is provided during the event.
Please join us for this blessed time of fellowship!
3 Likewise, teach the older women to be reverent in the way they live, not to be slanderers or addicted to much wine, but to teach what is good. 4 Then they can urge the younger women to love their husbands and children, 5 to be self-controlled and pure, to be busy at home, to be kind, and to be subject to their husbands, so that no one will malign the word of God.  — Titus 2:3-5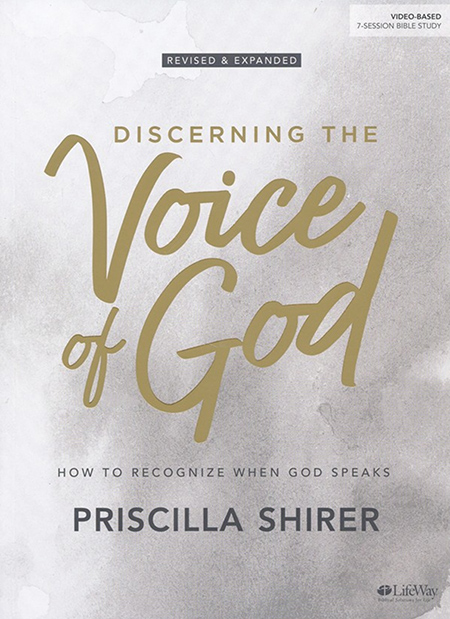 Tuesday Night Home Bible Study
Winter 2018 • Meets every other Tuesday • Starts January 16

A decade ago, Priscilla Shirer authored Discerning the Voice of God, and since then God has continued to grow, teach, and challenge her in her walk with Him. This revised and expanded edition reflects that growth through new stories, illustrations, and exercises.
Through 7 sessions, discover the root to clear and daily communication with God—humble obedience. Learn how surrender unlocks His many blessings intended for us, centers us in His will, and helps us discern His voice in everyday life.
Features:
All-new teaching videos approximately 40-50 minutes per session

In-depth stories and illustrations

Personal study to be completed among the 7 group sessions

Articles and insights from Dr. Tony Evans

Exercises to equip you post-study
Benefits:
Challenge yourself in the discipline of daily Bible study.

Gain practical advice for knowing and understanding God's voice through His Word.

Learn to recognize the Holy Spirit's character, language, and tone of voice.

Experience a deeper relationship with God, and strengthen your daily walk with Him.
For more information contact: Wendy@UniversityBibleChurch.com
Coram Deo: Behold the Lion of Judah, the Lamb of God
Times: 7:30 – 9:30 PM, Mondays, The Embassy Room (3rd floor)
The goal of this study is to equip us to interpret scripture and extract sound doctrines, in order that we are able to explain it to others (1 Pet 3:15), and most importantly, and to live our daily lives incorporating a deep assurance of such truth (1 Pet 1:13). In other words, to live in the presence of God ("Coram Deo").
After a deep study in Hebrews, we turn to behold the long-promised Messiah — our True High Priest and the Sacrifice that ended all sacrifices — in action, through the eyes of the Beloved Disciple.
For more info, please contact us.