This Sunday, August 9th we will be launching our UBC courtyard services at 11 am.!
As a reminder, we are meeting all the requirements to ensure that our facility is safe as well as adjusted our cleaning guidelines to meet the requirements of the most recent order. You will notice signage posted at several places reminding you of the social distancing requirements, the use of face masks, frequent hand-washing for 20 seconds and others.
Our worship service will continue its normal start time at 11 am. When arriving at UBC, you will be greeted at the door by an usher who will take your temperature and direct you to the courtyard. Congregating in the foyer and lobbies won't be permitted to support social distancing requirements.
Seating in the outdoor courtyard is arranged at six-foot intervals and staggered throughout. Families can sit together but members who are not of the same household must sit six-feet apart. If you are in an at risk category it is strongly recommended that you make use of our recordings which will continue to be available for you after the service on our website.
Face masks will also be required and we are asking everyone to please bring their own masks, hand sanitizer, and bottled water as there will be no beverages or snacks. We will have extra disposable masks and hand sanitizer available on site. During the service, face masks must be worn.
What about our Kids program? UBC kids church will continue to meet in a modified format. Children must remain in care of their household unit and not interact with other children at any time. All play areas have to remain closed as well. For those families who are unable to attend in person, Esther will be conducting the usual Zoom kids church at 10:15 am and then a separate program will be prepared for the kids attending the in-person courtyard service with their parents. Please also remember children will need to wear a mask unless under 2 yrs of age or if they have a respiratory condition.
Services will run slightly shorter than usual – about 1 hour. Please also remember to keep a distance of 6 ft. from each other when outside of the church building while still on the property grounds. Unfortunately, we won't have any all-church lunches during this time or any other afternoon programming.
Finally, our weekly Bible studies will continue to meet through Zoom.
I'm looking forward to seeing you and being refreshed by your presence. We will also be celebrating the Lord's supper as we share communion together as the body of Christ.
If anyone has any questions please feel free to contact us at office@universitybiblechurch.org or give us a call at (310) 474-9065.
On behalf of the Elders,
Pastor Bryan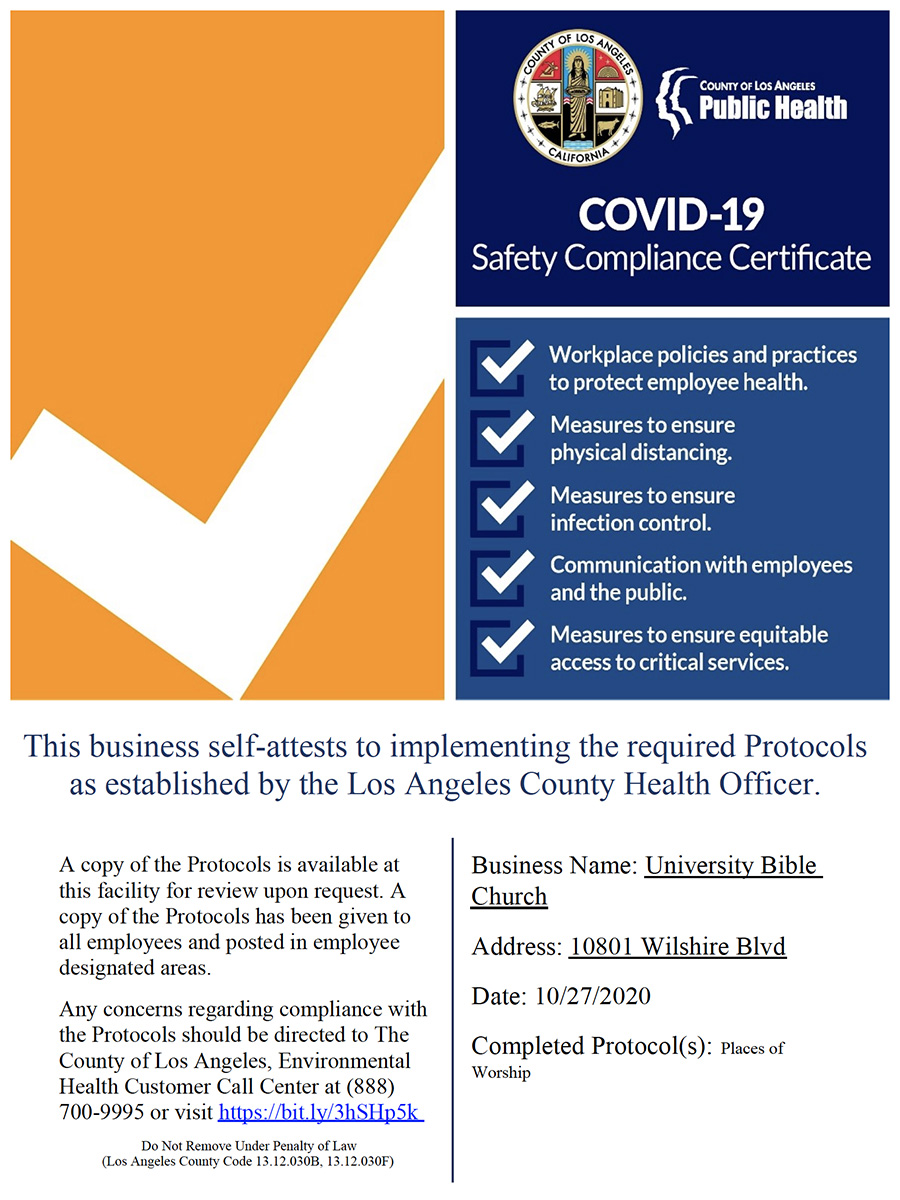 We Worship the Living God
University Bible Church is an independent Christian church in the Protestant tradition.
Its central tenets are found in its Articles of Faith and include belief in: the Deity and Lordship of Jesus Christ; the Trinity; Jesus' perfect life, atoning death on the cross, bodily resurrection, and ascension; Jesus' literal return; the inerrancy of the Bible in its original manuscripts; and our need for salvation through personal faith in Jesus Christ.

Visit Us This Sunday
Flip The Boxes For More Information
Morning Prayer Time
10:00 AM
• Coffee Room •
Join us for a time of prayer before Sunday service.
Morning Worship Service
11:00 AM
Sunday morning worship and service takes place in the main sanctuary.
Sunday Kids Church
10:40 AM
Kids meet for opening games, pledges, lesson pitch, and snacks. At 11 am, kids join their parents for worship in the sanctuary then follow the teachers to their classes.
• Family Room •
Please join us for lunch after the service.
Everyone is welcome!
We offer Kids, Teens and Adult Bible studies. Each month will bring a new Bible-centered topic covering a broad range of subjects.
Welcome to University Bible Church in Westwood!
We want you to know Jesus the Messiah for yourself, and grow in your relationship to Him. Jesus is alive, He loves you, and He wants you to know Him.
"We must allow the Word of God to confront us, to disturb our security, to undermine our complacency and to overthrow our patterns of thought and behavior."
"He died not for men, but for each man. If each man had been the only man made, He would have done no less."
"I realized that the deepest spiritual lessons are not learned by His letting us have our way in the end, but by His making us wait, bearing with us in love and patience until we are able to honestly to pray what He taught His disciples to pray: Thy will be done."